So you're looking for the lightest ultralight canister stove?
Well, you've come to the right place:
The BRS-3000T, at 25g is the lightest canister stove currently available.
Whats more?
Its less than $20.
BRS 3000T Canister Stove
Pros
Lightest canister stove available – 25g
Fast and efficient boil times
Folds up rediculously small
2700W
Extremely low price
Cons
Narrow pot stand diameter – best used with tall pots
Really needs a windscreen
Pot stands prone to bending (See below)
Overview
25g
Dirt Cheap
Titanium Alloy
Butane Gas Burner max output: 2700W
BRS Stove Fuel Consumption & Efficiency
Rated gas consumption is around 140g per hour. Typically and in ideal conditions it will boil 2 cups (500ml) of water using only 7 to 8 grams of fuel. From a 110g canister you should see around 11 to 13 solid two cup boils.
Weight
0.88oz, 25grams. Alternatives approach or breach the 100g mark regularly so big name brands obviously have a few things to catch up on.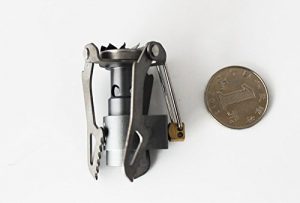 Durability & Stove Failures
Its been reported, that the BRS 3000T pot stand legs of some units will melt and bend after prolonged use.
Well, the don't really melt, they overheat and slowly bend under the weight of a full pot of water and food.
This doesn't happen in a single sitting, it tends to happen over repeated overuses.
I haven't experienced this and I don't see it happening anytime soon – I only really boil a cup or two of water at most in a 550ml pot – I also don't blast the thing on high – I suspect this might be part of the problem, this thing really cranks out the heat.
The reports all seem to have a few things in common: long burn times combined with heavy loads of water or food. For example, cooking up a large pot of rice for 20 minutes.
For most people I don't see this being an issue if all you do is boil water for freezer bag or mountain house cooking. For those of you who intend to do some actual cooking, or some long and slow snow melting I suggest you get something with a little better quality control.
On the flip side, even if it does happen the reports do say you can just bend the support legs back into place and carry on!
And for those of you willing to risk the $20 for that 25grams of raw power, please just give your unit a good test before you head out on a long trip.
BRS 3000T Windscreen Options
I don't like recommending windscreens for gas stoves as there is a rather large safety concern around the things blowing up when a windscreen traps too much heat reflecting it back in on the canister.
If you must use something, I prefer to use my surroundings first, and as a last resort I'll use a piece of very thick carbon fiber felt. It's usually sold as a welding blanket or some such and then you need to cut it down to size. This stuff is stiff enough to stand up on its own, it breaths well, so heat build up is less of a concern, and the stuff doesn't burn, melt, or get hot. It also works really well as a pot grabber if your squirt is otherwise disposed.
BRS 3000T vs Pocket Rocket
The MSR Pocket Rocket has been a staple in the backpacking community for years. So much so MSR released a second version aptly named the MSR Pocket Rocket 2. Now that BRS gas stove is on the scene its giving MSR a run for their money. The Pocket rocket, weighs more, costs more, and has only slightly better fuel efficiency. On the flip side, the BRS has much better simmering capability and did I mention its less than $20?
The Verdict
The BRS 3000T is the new kid on the block who happens to be turning heads in the ultralight crowd.
Stove failures or not, at sub $20 and only 25 grams there isn't much you can say about this stove and there really isn't much to fault for its intended use: solo trips and cup sized water boiling. The biggest issue is really just a trade off: the small pot stand legs make me really nervous: