With so many backpacking headlamps out there its kind of hard to tell what really sets the Petzl Reactik and Petzl Reactik Plus apart from the competition.
Petzl being a relatively new and unknown brandname struggles with recognition when going up against the likes of Black Diamond. Fortunately there is a rather large vocal group in the ultralight community that gives credit where credit is due.
The Petzl Reactik and Reactik+ is a replacement line for the old Petzl RXP. Reactive lighting adjustments make these headlamps stand apart from the competition in a significant way – Do not underestimate the joy of not having to stop and alter your brightness when you leave the view of street lights on a run, or enter a section of trail under thick tree cover.
The Petzl REACTIK
The Petzl Swift
Pros
Automaticly adjusting light brightness
Ability to customize light output profiles
Lightweight design
USB Rechargeable that can also use AAA's
Cons
Self adjusting brightness is impacted by heavy condensation
Reactik+ only: Flakey bluetooth at times
Feature Summary
Light sensor automates lighting adjustment providing a longer burn time and less fumbling in the dark
Constant lumen output
Mixed light beam with for focus and path finding
Redlight mode prevents losing your night vision
Light lock to prevent accidental burn
USB Rechargeable 1,800 mAh battery, 300 charging cycles, can use 3xAAA
IPX4 waterproofing – Water resistant, splash and rain proof
Brightness & Battery Life of the Petzl Reactik
The Reactik and Reactik+ both have a lot of different settings and modes that can affect battery life.
In constant brightness mode, the standard setting gives out 100 lumens over 70 meters and lasts for up to 6 hours. At max brightness in constant stream mode the lumens double to 200 with slightly more range at 90 meters but only a pultry 2 hours of burn time.
Now:
This is where things get really interesting.
In reactive brightness mode, you have three sub modes, automatic mode, you get up to 80 lumens and the same 70 meter range as before, only this time you have up to 10 hours of burn time. At the standard setting you get a massive 170 lumens and 90 meter range but this lasts up to a whopping 5 hours! At max power in reactive mode you get an absolutely huge 300 lumen output and 110 meter range. Not this mode is really only meant for path finding with a 2.5 hour burn time.
And,
The all important red mode: Standard outputs a solid 2 lumens, 8 meter visual range and a rediculous 30 hours of battery life. Strobing this beast lasts 60 hours and is visible from up to 1000 meters away (SOS use case.)
Comfort
The Reactik sports soft and dual headbands. One band rides higher on your cranium giving stability when you bounce up and down walking or running. The other rides lower providing tension keeping the fit firm requiring less adjustment.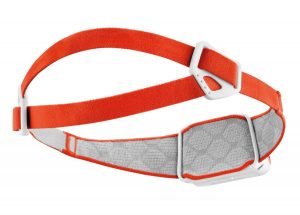 Weight
At 4.1 ounces (116g) – *including batteries*, the petzl reactik weighs solidly less than something heavy duty like the black diamond storm but due to its previously mentioned dual headband weighs a bit more than lighter petzl options out there. As with all things it comes down to a trade off and what your needs are.
Street Runner? The extra 50grams or so weight is far less important than the comfort and stable operation the dual straps provide.
Long distance hiker? The extra 50 grams might not be worth it if you're only really looking for something to use around camp.
Purchase accordingly!
Durability
While I have complete confidence and experience with other headlamps in the Petzl line, I haven't had the Petzl Reactik long enough to comment. I did notice it does have a much more solid build compared to my ultralight headlamps. This is probably down to the target audience (runners) needing a bit more leeway when it comes to drops and dings.
Petzl Reactik vs Reactik Plus
The Petzl Reactik+ (plus) is essentially the same headlamp as the classic Reactik. The Reactik Plus comes with bluetooth support and a smartphone app.
Petzl Reactik vs Tikka RXP
The Petzl Reactik is the new and improved version of the Tikka RXP. The Tikka RXP was the reactive lighting version of the Tikka XP.
Petzl Reactik vs Nao & Nao Plus
The Petzl Nao is an ultralight backpackers alternative to the Reactik Plus. For runners the Reactik's wider straps are a hard requirement. For walkers the lightweight headband is more than enough for most bacpacking situations. The Nao also comes with an "ultralight" price tag.
The Verdict
The Petzl Reactik is an amazing peice of kit I look forward to many more years of use. The rechargable AND replacable battery means this will likely last me much longer than the 300 charge cycles the battery is rated at.
I can't recommend the Reactik Plus* the Standard Petzl Reactik will be staying out of the bounce box for the forseable future.
* Due to the unexplainable price difference, lack of real feature differentiation, and the issues with bluetooth connectivity don't help anything either. I really hope they can figure something out for the next one!
Specs
| | |
| --- | --- |
| Best Use | Running / Backpacking |
| Bulb Type | LED |
| Bulb Detail | 2 LED / 1 red LED |
| Red Light Mode | Yes |
| Beam Type | Adjustable / Flood |
| Max Light Output (Lumens) | 220 lumens |
| Light Output | High: 220 / low: 40 / red: 2 lumens |
| Max Beam Distance (m) | 65 meters |
| Beam Distance | High: 90 / low: 30 / red: 8 meters |
| Brightness Levels | Varied |
| Strobes | 1 |
| Average Battery Run Time | High: 2.5 hours / low: 10 hours / red: 30 hours |
| Regulated Output | Yes |
| Rechargeable | Yes |
| Batteries | Rechargeable / 3 AAA |
| Dimensions | 2.5 x 1.5 inches |
| Water-Resistance Rating | IPX4 |
| Weight With Batteries | 4.1 ounces |