Update:
I've been emailed asking about where to buy this pot. Looking around it seems they're no longer stocked by zpacks or other retailers that once did, there is a couple in stock on random sites intermittently (google can help you there), Aliexpress has a few of the larger 600/700ml light versions but none in that perfect 550ml form factor. My Amazon link at the end of this post will take you to the correct product page but I've noticed that availability comes and goes.
With that in mind and thinking Toaks might be dropping the ultralight line for good I emailed them.
From Toaks:
We do not know when we can have big batch of this pot as we do not have the material for it.
They then offered to sell me one they had on display! So I don't think they are ending the line, availability simply depends on when they can get the 0.3mm thick titanium for it and it sounds like they do some small batches here and there.
My advice: If you're on the fence and find it in stock, buy it – you can always return it.
If it's out of stock at one of the standard button style links below you have two other options to buy from:
Toaks 550 New Version – This version features a new lid but comes in at the slightly heavier 100g including the 20g lid.
Toaks 650 Light – Ultralight Version – This pot comes in slightly heavier than the 550 due to being slightly taller. It's width is the same so will still fit your esbit burner just fine. The weight of this one comes in at 60g without the lid or 80g total. Still lighter than the New Version of the 550.
Toaks Light 550ml Pot Review
So you're looking for the lightest ultralight titanium cook pot?
Well, you've come to the right place:
The "Toaks light" titanium 550ml cookpot, at 54g is being touted as Perfect for the minimalist solo backpacker by zpacks.
Whats so perfect?
Its inexpensive, perfectly boils two cups of water, and slides neatly inside the titanium esbit wing stove for a stable and foolproof boil with the solid fuel – esbit.
Toaks Light is a new line or sub brand from Toaks. They've kept their standard line in place for people who want durable titanium cookware but they've heard the cries from the ultralight community and come out with the Toaks Light line.
The Toaks Light line, starting with the 550ml mug is essentially the reincarnation of backpacking light's discontinued BPL 550 Firelite pot. They've also come out with a slightly taller 650ml pot, and a wider 700ml pot.
This line is essentially a thinner lighter "ultralight" version of their normal line. They even understand we'll probably ditch their lids and listed their weights separate (54g for the pot, 72g for the whole shebang.)
Toaks Light – Titanium 550ml Pot/Mug
Pros
Lightest titanium option for boiling 2 cups of water
Pretty durable
No SS taste or concerns about aluminium
Stable esbit stove fit
inexpensive
Graduated volume marks
New lid design fits properly
Cons
Old lid design doesn't sit well
Hard to find the right ultralight versions online, aliexpress has some light pots but I could only find the 550 on amazon
Overview
Pot only: 1.9 oz (54g)
Pot with lid: 2.6 oz (72g)
0.3mm thick titanium
3 3/4″ (95mm) (Dia) x 3 1/8″ (80mm) (H)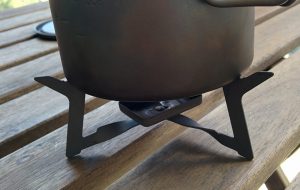 Weight
At 54g, or 72g if you're not replacing the lid you'll be hard pressed to find a lighter cook pot for solo use without dropping to a smaller size.
Durability
The weight does affect durability somewhat the 0.3mm thickness means this pot will take some pretty hefty damage if you accidentally stand on it. On the other side of that, I don't think I've ever stood on a cookpot in my entire life and I don't know if I believe the thicker heavier versions would fair any better anyway!
Toaks 550 vs 650 vs 700 vs 750
The 550ml comes in two versions, a Toaks light or ultralight version (above), and the since discontinued normal version.
The 750 above is only available in the heavy non ultralight version, the 650 is only available in the ultralight version.
The 700 above is an odd one out which is available in both a tall and heavy version and a wide and ultralight version. Which works out well as the wider pot size allows more efficient fuel use.
Toaks vs Snowpeak
While many people have been happy with snow peaks performance for many years and won't switch anytime soon, if you're new to titanium pots you'll probably be wondering whats the difference, and why do you recommend the cheaper Toaks over Snow Peak?
Well, its not just cheaper, its also better designed:
Lid nests better and doesn't rattle
Thinner and lighter material
Graduation marks to show ml/oz
Lid grabber stands up on its own
Handle is more ergonomic
Handle stays closed, the Snowpeak is loose
The Verdict
I really have to give Toaks a shoutout here, it was a sad day when the BPL 550 Firelite was no longer available and Toaks rebooting it into a whole new line of ultralight pots was a great decision many of us are thankful for.
The Toaks Light 550ml pot is a superb goto for any ultralight soloist and pairs perfectly with a 900ml pot for group situations where you need a second mug for coffee or tea drinking.