I've used and abused 3 Ultralight Leatherman Squirt PS4's over 10 years – If you're looking for an ultralight backpacking knife with a few extra tools – The squirt is the multitool for you.
I've lost two of these tools to the TSA and still every day carry the third on my keys. I've used it successfully for backpacking, day hiking, and various round the house jobs. I've even used it to fix my car a few times.
Since this tool gets so much (ab)use I really wanted to give you lot a full and long term review. Among other things, I'll cover the basic stats, features, and how to get the most out of them. I'll also cover a couple of simple modifications I've done to make it even more useful.
Pros
High quality construction with standard 25-year guarantee!
Ultralight viable weight (53g)
Useful tool selection
Only leatherman I'd actually everyday carry (EDC)
Cons
Non-locking blade
No tweezers
Comes with Chisel-ground blade
Leatherman Squirt PS4
Multi-tool Summary
Knife blade
Flathead Screwdriver (small enough for most Phillips jobs)
Eyeglass Screwdriver
Bottle Opener
Scissors
Fingernail File
Lanyard Ring
Pliers
Wire Cutter
Tools – An In-depth review
Knife Blade
The 1.6″ Chisel-ground knifeblade on the leatherman squirt ps4 (and es4) is a good every day cutter. Works as well as any other small backpacking knife for odd camp duties like cutting cord or making repairs. Its also great for opening packages at home or at the office (you'd be suprised how many people borrow it once they know you have it!)
Being lefthanded I'm not super fond of righthanded chisel grinds so I used a dremel and hacked the edge into a symetrical grind. Doesn't look great but no longer cuts the wrong way for me. There are better tools for this modification, its simply what I had on hand.
I've had three PS4's over around 10 years and never had a knife blade break on me. Don't try to cut wood with it and yours will last just as long.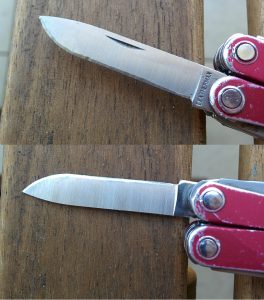 Flathead Screwdriver
The Flathead screwdriver is small but not too small, it gets most jobs done and can be used to turn a few phillips screws aswell.
The flathead is easy to get out without opening up the whole tool and is on the end opposite the lanyard keyring to minimize interference.
Eyeglass Screwdriver
The Eyeglass screwdriver, like the flathead is easy to open without opening the whole thing up.
Due to being less used it got the unfortunate spot next to the lanyard keyring which means – if you have it on your keys, it will be difficult to use without removing.
The Eyeglass driver fits standard glasses screws from my experience, only my slim armed reading glasses have screws that are too small for it. Most sunglasses (e.g. backpacking sized) will have no issues tightening in the field.
Bottle Opener
The bottle opener is under the flathead screwdriver and does an ok job of opening bottles. I say "ok" because I'd still rather use a lighter or another bottle to open my beer – its just easier.
Scissors
The scissors are springloaded but small and a bit flimsy. They cut paper well and do a decent job opening small packets of food.
After around a year I noticed my scissors loosening and not cutting very well anymore. I could have easily sent it in for a replacement but I found it was easy enough to fix with a nail and a hammer – there is a small rivet you just need to smash in a bit tighter. I haven't had any issues with it since.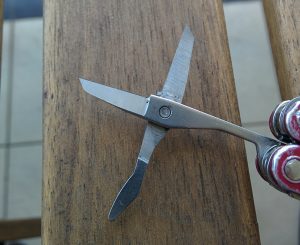 Fingernail File
I really don't use this very often, I believe I've used it to cut a couple notches in wood before – one of the edges is serated with the file texture.
It's worth mentioning the end of the fingernail file is shapped so that it can be used for bigger flathead screwdriver jobs than the actual screwdriver bit. However due to its length I wouldn't force it on anything.
Lanyard Ring
Not much to say on this – it's a keyring – it's little and attached to an even smaller ring that slides around the end of the multitool. If you remove the keyring you can slide it away so it doesn't get caught or impede on using the other features.
Pliers & Wirecutter
The Pliers are thoughtfully designed, spring loaded these pliers have three main sections, the wirecutter, the bolt gripper, and the flat/flush, almost needle nose pliers.
The wirecutter is around 5mm long and can cut most small wires with relative ease. There is no stripper guage built in but you can easily use these to strip wires by using less pressure.
The bolt grip is a sort of triangle shape when closed, this allows it to properly grip multiple sizes well. I've used this to loosen car batteries and other small bolts on cars with moderate to good success – its a small tool, expect it can only handle small jobs.
The needlenose section of these pliers are perhaps the most undervalued part of this multitool. I know a lot of people prefer the victorinox classic over the squirt for backpacking simply for the tweezers – these pliers are actually pointy enough to do most tweezer jobs – only due to the size you get a much better grip on the pesky splinter or thorn.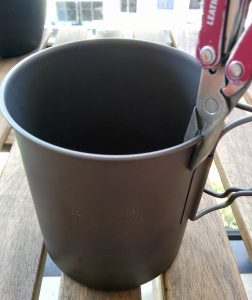 Ergonomics
The PS4 has superb ergonomics. While it is a bit small its round edges don't dig in (that much) unless you're really pushing the limits of the pliers.
The tools are well placed and it shows a lot of thought went into the design. For example, the knifeblade, scisors and screwdriver open out on the bottom side of the tool which allows easy use without the square shape impeding on grip or use. And when you open up the pliers, all the tools are on the inside inorder to not get caught or dig into your palm while you apply pressure in use.
Durability
Leatherman durability is bar none, its why they happily give anyone a near lifetime warranty and frequently repair people's gear without question.
Over the ten years I've owned my PS4's I've never once broken any tool bit – but – I have come close. The Squirt, as the name suggests, is a small tool, and should be treated as such. Treat it with some care, and it will last a lifetime (or until you forget its on your keys when you go through airport security!)
My first squirt's pliers got a little loose upon trying to open large bolts with far too much force – if you need two hands, its probably not the best idea to use a squirt!
I didn't have my second squirt long enough to damage it.
My third squirt has lasted me the longest, I think I'm up to around 5 years at the time of writing this. As mentioned the scissors did loosen to the point of being quite finicky in use – I had to cut while trying to push the cutting edge in on itself. This was easily repaired with a hammer and I haven't had any issues since.
Ultralight Weight & Portability
Spec's say 1.9oz or 53g, true weight on my scales reads in at 56.5g.
In any case, its small, and very lightweight. This weight and small size is what allows me to happily carry this as EDC. Anything larger (like a juice) and I don't think I'd want it on my desk at the office.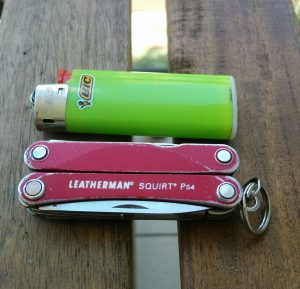 Ultralight Leatherman for Backpacking
The Leatherman squirt is an outstanding backpacking multitool and backup blade. For ultralight hikers its also particularly decent as a primary cutting tool – this is what I use it for. It can cut cord, cheese and it can open mountainhouse.
Aside from the blade and the scissors, the screwdrivers sometimes get used for glasses adjustments or trekking pole tightening. The pliers are also very handy as a pot grabber thats safer than using a bandana. The pliers also small enough to be used as general purpose tweezers removing splinters and thorns. – they are not small enough for tick removal. (I use a pro-tick remover for that)
Value
For the price of the squirt you get immense value. Why? Because I carry this thing every day it gets a suprising amount of use. I have larger backpacking and outdoors blades that cost tripple or more the price that see maybe 2 weeks of the year real use. you do the math!
The Verdict
Whether its every day carry, backpacking, or simply need a small multitool for odd jobs around the house the the Leatherman Squirt PS4 is up for the task.
It makes a great gift and is an outstanding workhorse for its size. While there are a few minor drawbacks I've found over years of use I still stand by my decision and recommendation of the PS4. The PS4 combines the best utility with the smallest form factor and lightest weight.
Leatherman Squirt vs Victorinox Classic
The Victorinox Classic is perhaps the most recommended ultralight backpacking pocketknife. Rightfully so, its minimal, only 20 something grams, and is extremely ubiquitous.
Compared to the squirt it is missing a few key features for me, namely the wire cutter and pliers. While I believe the classic is probably the better choice for ultralight backpacking alone, the everyday utility of the PS4 means I opt for the leatherman every time and just deal with the few extra grams of weight.
The victorinox classic also comes in a wide variety of variants and shell coverings which, while functionally the same, it adds a nice touch.
Leatherman Squirt PS4 vs ES4
The leatherman squirt has a couple of variants, the ES4 is the first in this lineup with wirecutter's and wire strippers in place of the pliers. If you're an electrician, or simply do a lot of work on cars this can be a fair bit more useful. Personally I prefer the pliers as I don't have a lot of tools in the house and this sees a lot of use in place of that.
Leatherman Squirt vs Micra
The Micra is the squirt variant with scissors in place of the pliers. If you don't need the pliers I highly recommended getting the micra as the scisors are probably the thing that gets the most use on my squirt – them being a little flimsy means it can be quite annoying sometimes!
Leatherman Squirt vs Sidekick
Depending on your line of work or day to day activities the heavier but sturdier Leatherman Sidekick series is essentially a drop in replacement for the squirt when the small squirt simply isn't up for the task. For general backpacking the sidekick is a great pick, while for people trying to dial in on ultralight baseweight's the squirt is perfectly suitable for fast and light backpacking.
For labor intensive jobs I can see the juice being a much better choice, for low key office settings, the squirt travels mostly unnoticed.
Specs
| | |
| --- | --- |
| Best Use | Ultralight backpacking & Everyday Carry (EDC) |
| Manufacturer | Leatherman |
| Knife Blade Type | Straight Edge |
| Number of Blades | 1 |
| Max Blade Length (in.) | 1.6 inches |
| Closed Length | 2.25 inches (size of a mini bic lighter) |
| Handle Material | Stainless steel/anodized aluminum handle scales |
| Blade Construction | Stainless steel |
| Phillips Screwdriver(s) | Yes |
| Standard Screwdriver(s) | Yes |
| Eyeglass Screwdriver | Yes |
| Bottle Opener | Yes |
| Scissors | Yes |
| Fingernail File | Yes |
| Lanyard Ring | Yes |
| Pliers | Yes |
| Wire Cutter | Yes |
| Weight | 1.9 ounces |