The Osprey Exos 38 is my favorite pick for fast and light overnighters or even the odd long weekend bash through the bush.
Its lightweight build make it a joy to carry and its cavern of a main compartment make for quick work of camp setup and breakdown.
The Osprey Exos 38 is the the smallest backpack in the Exos line. And while I've heard reports of people using it on the Appalachian Trail for casual hikers and weekend warriors I'd suggest something slightly bigger for those longer than 1-2 night trips.
The Osprey Exos 38
Pros
Lightweight build
Removable lid/brain (flapjack!)
Extremely breathable back panel
Quality construction
Great back comfort
Lifetime warranty
Carries well above its weight limits
Flat design results in a stable carry
Fairly rugged if you don't thrash it
Extra lashing points on the bottom
Compressable for shorter trips / daypack able
New straps and hipbelt is better than the older Exos
Front Stretch pocket has insane capacity
Cons
No included raincover
No sleeping bag compartment (does that even matter?)
The updated and shrunk gel pockets – can't fit phone anymore
Hip belt slips, needs hourly adjustment
Color is a bit…
Feature Summary
Updated materials and hardware provide a lighter weight pack than the previous version; the lid, key straps and attachment points are all removable
Backpanel suspension features breathable tensioned-mesh with side ventilation
Comfortable foam shoulder straps covered in mesh make for breathable carry all round
Removable floating lid comes with attached flap to keep rain out after removal
Hydration bladder compatible
Ultralight material + 7mm webbing on the compression straps. Routable over or under side pockets for your convenience
Insanely stretchy front mesh pocket holds much more than you would expect
Fit & Comfort
The Osprey Exos series has always fit well, but with the new updated version, holy hell. The Exos 38 can comfortably carry up to around 15kg before you start to feel a strain after a couple of hours walking.
This all comes down to its amazing back panel design which, by the way, keeps your back nice and dry (An underrated bonus.)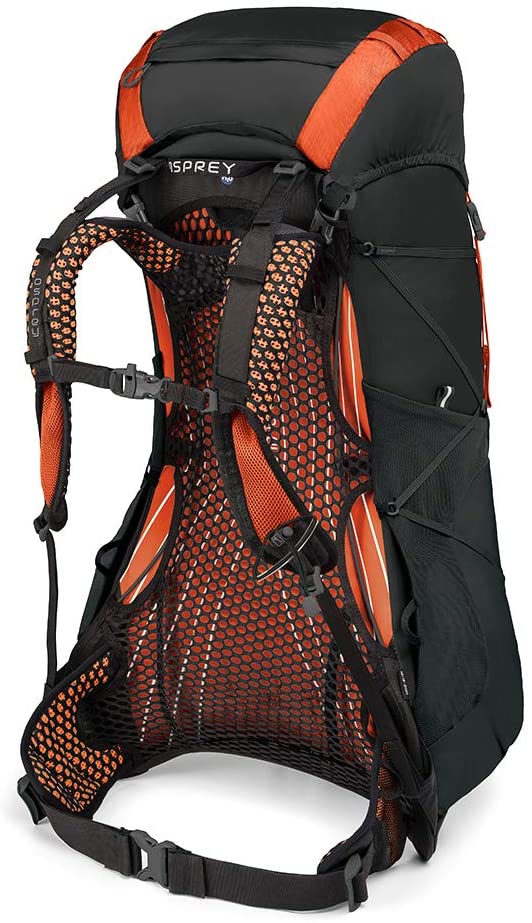 Weight
There is lighter options for a 38L pack but they're mostly made of much more expensive, and much less durable materials. Coming in at around a single Kg the Exos 38 strikes a very nice balance for the majority of hikers out there. If you're really dialing in your weight you can start to look at lighter packs. Until then, the Exos 38 will last a very long time indeed.
Between lighter options and the Exos 38, you're stuck with either doubling the price, halfing the weight and halfing the durability. I know which one my cheap ass would pick. And thats not really even that fair because I still consider Osprey a premium quality brand.
Capacity & Volume
The Exos 38 claims to hold 38L of gear. In reality you can still load up about that much after removing the 6 odd litre lid. The front mesh panel also holds a ridiculous amount carry your rain gear, your lunch, your tent fly and whatever other little odds and ends you like.
While the Exos 38 can hold a lot, it can also compress down to quite a neat little package: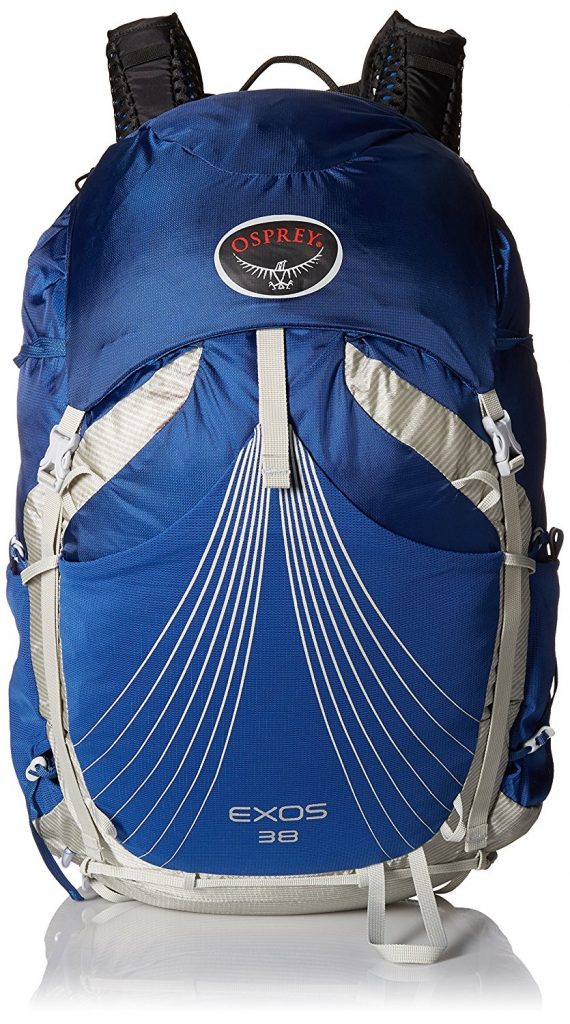 Durability
Osprey Durability.. I don't think I really need to go into this, their lifetime guarantee has you pretty much covered for everything. I will note this backpack will first show signs of wear along the bottom and on the front mesh pocket if you drag it through too many bushes. Sew or patch them early to prevent further fraying.
Osprey Exos 38 vs 48
If you're tossing up between the 38 and and the Osprey Exos 48 in most cases I recommend going with the 48. Especially if you envision being at or near capacity most of the time.
You can always compress things down as you reduce your load but its impossible to expand the material passed its max capacity.
If you're starting to look at ultralight gear but don't have all your kit dialed in, get the 48 now and get something lighter in this volume range later.
Osprey Exos 38 vs Kestrel 38
I personally found the Osprey Kestrel 38 far too heavy for my needs. Vs the old Exos it may have been a contender but with the updated Exos' backpanel and harness system its not even close.
The Kestrel does have sleeping bag compartment style access but personally I find this only useful for travelers and prefer to avoid unnecessary points of failure when backpacking in the back country.
If you're looking at backpacks for travel, the Kestrel, with its better organization and slimmer barrel design could come out on top – especially when you think about those tight doorways on trains and how wide the exos is.
Osprey Exos 38 vs Stratos 36
The Osprey Stratos 36 is an absolutely bombproof and rugged backpack with more focus towards cycle touring. If that's what you're after the Stratos will give you many good years. If you're looking at this for hiking, stick with the exos, you don't really need the features or the thick webbing and you really don't need the extra weight.
What about Airplane Carry on?
While you may have trouble with some picky airlines most will let you board without any issue. The Exos frame does make it take a bit of extra room but the Exos 38 is small enough to fit easily as carry on while traveling by air. There is usually ample clearance available inside the overhead compartments and the Exos 38 has no problems fitting in as carry on.
Can the pack fit a Bear Vault?
Worried about fitting a BV500 bear vault into the Exos 38?
Don't be:
The Verdict
The Osprey Exos 38 is perhaps best pre-ultralight backpack in this volume range. The comfort it affords and the carrying capacity is unparalleled even comparing against much more expensive cottage industry packs.
Frequently Asked Questions
Can the curved mesh frame be removed for travel (i.e. packing in a large suitcase)
The frame can physically be removed but its basically impossible to get it back in. DO NOT TRY THIS. Instead, I recommend getting a Talon 33 or Talon 44 it weighs about the same, has similar carrying capacities, and most importantly folds down absolutely flat when you need to pack it in the bottom of a suitcase.
How much does the lid weigh when removed?
The removable lid weighs around 285g and you can shave another 20-50g extra grams off by removing the excess straps. – keep in mind these are thin and don't weigh much to begin with.
What is the womens version of the Exos?
The Exos is a unisex design and there wasn't any need to create a womens line for this series.
Does the Exos 38 fit a BV500 bear vault?
​The BV500 fits vertically.
Specs
Best Use
Backpacking
Frame Type
Internal Frame
Ultralight
Yes
Gear Capacity (L)

S

36

M

38

L

40

Gear Capacity (cu. in.)

S

2,197

M

2,319

L

2,441

Weight

S

2 lbs. 1 oz.

M

2 lbs. 2 oz.

L

2 lbs. 3 oz.

Fits Torso

S

16 – 19 inches

M

18 – 21 inches

L

20 – 23 inches

Fits Waist/Hips

S

24 – 45 inches

M

27 – 48 inches

L

29 – 55 inches

Material(s)
Ripstop nylon
Frame Material
Aluminum
Number of Stays
1
Hydration Compatible
Yes
Suspended Mesh Back Panel
Yes
Pack Access
Top
Number of Exterior Pockets
4 + main compartment
Gender
Unisex