The Mountain Hardwear Finder Jacket is a 2 layer rain jacket that gets suprisingly little coverage from the backpacking community.
While not a full 3 layer rain jacket, the Finder Jacket, in both women's and men's, is able to hold up relatively well in a rainstorm or quick downpour.
For non alpine use the Mountain Hardwear Finder Jacket is an excellent entry level rain jacket with an entry level price.
Mountain Hardwear Finder Jacket
Pros
Excellent Breathability
Great rain protection
Athletic fit but still has enough room for insulation
Very packable
Built to last through daily abuse
Cons
A bit long in the torso
Could be lighter
Not goretex, will wet out eventually
Feature Summary
Tough, durable, and abrasion resistant face fabric
Exposed water resistant PU center front zipper
Two covered, zippered handwarmer pockets
Two-way adjustable hood
Dry.Q Core – 70D 2 layer ripstop nylon
Rain Protection
As a 2-layer rain jacket the Finder is up to the task of keeping your insulating and base layers dry in a rain storm.
The fabric is somewhat breathable but will eventaully wet out – when that happens you'll sweat up your own storm. This is perfectly normal and happens with every rain jacket on the market. You're outside, its raining, you're probably going to get a little wet!
To combat the sweat storm inside your jacket I suggest venting frequently when using this jacket for a prolonged time in the rain – simply pull the jacket out from your torso sucking air in around your neck and push it back in forcing the sweaty air out.
Wind protection
The second function of a rain jacket is wind protection, keeping you from receiving side flying rain and cold blasts of wind.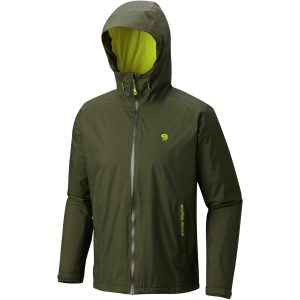 The pictured hood on the finder jacket provides great coverage and using the draw strings appropriately will keep the hood up firm. The Finder jacket hood is quite long in the kneck, this presents us with a little bulk but allows us to swivel our head around without moving the hood in front of our face or letting blowing rain in the created gaps.
Weight
The Finder jacket weighing in at 13.4 oz or 380g, is a little on the heavy side for a 2-layer jacket.
I would like to see them replace the two way zippers and reduce the thickness of the material.
While the two way zippers are handy they increase weight and I don't really find the feature that useful.
The 2-layer 70d fabric, while bombproof, could feasibly drop down to 50d, maintain a lot of strength and drop the price without affecting affordability.
Packability
The Finder Jacket compresses and packs conveniently small to about the size of two standard soda cans.
For longevity of your jacket I recommend not folding or stuffing it into its own pocket, while neat for packing, tends to crease and scrunch the waterproof breathable layer reducing its lifespan.
Instead I've found the more than suitable solution to be simply rolling the jacket up into its own hood. This minimizes creasing and can be done in a way that prevents water from getting on the inside of the jacket – putting on a wet jacket isn't the funnest thing in the world after all.
Men's Sizing & Fit
The Mountain Hardwear Finder Jacket is an athletic cut (close fitting) but with a little extra room compared to other brands.
Fits true to size, at 6'1″ and a stocky 200lb I found the L to fit me best with quite a bit of room to spare for insulation and active layers.
Womens Finder Jacket
The women's finder jacket is a more conservative cut with more tapered edges. My wife, while she doesn't own it, found it to be much more trim than her Marmot Precip Jacket which she finds quite comfortable.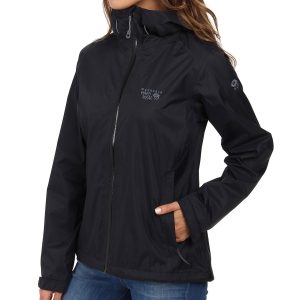 Finder Jacket vs Marmot Precip
The Marmot Precip is an extremely popular 2.5 Layer rain jacket. The extra 0.5layer can be ignored, they're essentially the same. The Marmot Precip is outstanding performance wise – provided you keep up DWR re-treatments and don't expect the inner laminate to last longer than 2-3 seasons.
I rate the Marmot Precip slightly ahead of the Mountain Hardwear solely for how the precip fits my stocky build. If you find the closer athletic fit to be more comfortable the Finder might just pull ahead for you.
The Verdict
The Mountain Hardwear Finder Jacket, in women's or men's, is a superb entry level rain jacket.
While its intended use is a durable backcountry beater its trim, athletic fit make present you with a stylish addition to your casual and daily wear wardrobe.
The clean and subtle Mountain Hardwear logo on the chest is also a nice addition in the style department – I'm not a big fan of large brand logos all over my gear.
Specs
| | |
| --- | --- |
| Best Use | Backpacking |
| Insulated | No |
| Waterproof Breathable | Yes |
| Back Length | Hip-length |
| Gender | Available in Women's and Men's |
| Weight | 13.4 oz (380g) |
| Shell Fabric | Mountain Hardwear – Dry.Q Core – 2 layer – 70d Ripstop |