Looking at picking up an Osprey Quasar 28?
The Osprey Quasar 28 is a superb commuter backpack that can also serve just as well as a daypack for those who hike.
Osprey Quasar 28
Pros
Lightweight and quality construction
Usually stands upright
Great comfort and back padding
Lifetime warranty
Fits 15″ laptop
Hipbelt for stabalization while biking to work
Cons
Laptop sleeve is a little thin – designed with apple laptops in mind
Secondary tablet sleeve is unnecessary for me
No included rain protection
Feature Summary
Padded laptop sleeve and separate padded tablet sleeve
Organization pocket
Bungee compression and storage on the front
Threaded webbing compression all around to keep things close to your center of gravity
Side mesh pockets stretch to hold a water bottle or umbrella
Top grab handle for simple carry
Blinker light attachment for cycle commuter's
Fit & Carry Comfort
The Quasar will carry up to about 10lb comfortably more than that and it gets a bit full and starts to barrel out from your back.
The hip-belt, while small, helps a lot when using this as a daily commuter bag while cycling. It also transfers a surprisingly large amount of the bag weight to your hips while hiking.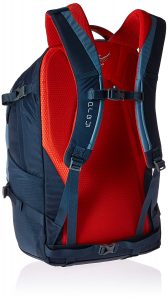 Weight
At 1.7lb (0.75kg) the osprey quasar is surprisingly light compared to similar style backpacks. If you're looking for something that makes getting to work less painful – the lightweight quasar is right up your alley.
Capacity & Organization
I found the 28L volume specification to be just about right.
The extra organization pockets and internal mesh pockets in the front of the backpack means I can keep all my little bits and pieces organized and close to hand throughout the day. I use this pocket to keep a pen, USB sticks, notepad, and a couple of phone/tablet chargers.
The side pockets are stretchy, and they stretch – a lot – They have a way of molding to whatever type of water bottle you place in them and keep them tight and secure.
Laptop Sleeve
The laptop and tablet sleeves on the inner backside of the Quasar are designed to be accessed easily and in practice they are. The Pockets are lined with a soft scratch free fabric to both protect from scratches and help prevent damage from impacts.
The laptop sleeve dimensions are around 14.5×10.5″ and will comfortably fit up to a 15″ Macbook Pro or a thicker 13″ laptop.
The other design choice osprey made that I absolutely love is how the laptop sleeves are raised from the base of the pack meaning you're far less likely to smash the corner of your laptop when you place your bag on the ground.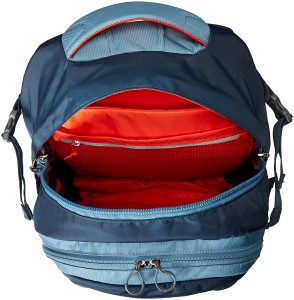 Osprey Quasar Carry On
The Quasar is my favorite and go to carry on backpack.
The pack fits neatly under airplane seats so I don't need to mess around with overhead compartments or worry about other people shoving their overstuffed rock filled suitcases on-top of my laptop.
Durability
Osprey durability is second to none and the Quasar 28 backpack has the same qualities you've come to expect and love from Osprey. With Osprey's All mighty & lifetime guarantee you're covered for pretty much any eventuality – not that I think you'll ever actually need it – osprey packs are built to last a long time.
Osprey Quasar vs Comet
The Osprey Comet is a smaller day-pack for shorter commute times and people who really only need to take a laptop and their essentials to and from work. Being smaller it also carries better with more stability while on a bike.
Osprey Quasar vs Nebula
The Osprey Nebula is a larger backpack offering a total of 34 liters of space compared to the quasar that is an extra 6 liters. It doesn't sound like much but that 6L makes for a much bulkier pack as you can see in my review here.
Depending on your needs, choose accordingly. I would label the Nebula as a large commuter good for those carrying a full change of clothes and shoes for after the gym. For another perspective on its size, I also label it a full on travel backpack for the minimalist traveler too!
The Quasar is a much better fit for those who need a laptop backpack and maybe a few text books or a couple of extra warmth and rain layers.
The Verdict
The Osprey Quasar 28 is an outstanding backpack for commuting, while there are better options for a specialized day pack I wouldn't look at you funny for saving a buck and using this backpack for both. It is a solid backpack that I look forward to using for many years to come.
Specs
| | |
| --- | --- |
| Best Use | Commuting |
| Gear Capacity (L) | 28 liters |
| Gear Capacity (cu. in.) | 1,709 cubic inches |
| Number of Exterior Pockets | 5 + main compartment |
| Hipbelt | Yes |
| Laptop Compartment | Yes |
| Fits Laptops up to | 15 inch macbook pro or 13 inchs for a thicker laptop |
| iPad / Tablet Sleeve | Yes |
| Carry-On Size | Yes |
| Material(s) | Ripstop nylon |
| Dimensions | 20H X 13W X 11D IN |
| Weight | 1.69lb. (0.75kg) |
| Gender | Unisex |