The New Osprey Talon 11.
Wow.
It really excites me to write this review. The Talon line is my absolute favorite of the Osprey lines. I have a Talon 44, 22, and an Exos 58. The Exos 58 is more comfortable than last years Talon 44, but I just had to see how this new updated Talon harness and back panel feels.
The Osprey Talon 11 is the the smallest backpack in the Talon line. Its best suited to adventures that require a little more than a hydration pack but don't need a full on daypack. It also works as a great every day commuter on the train, pavement or even on the bike.
The Osprey Talon 11
Pros
Great running pack, daypack, or commuter rucksack
Minimal weight
Minimal bounce
Straps don't rub
Pack doesn't crawl up as you run
Hip belt pockets large enough for an iPhone or GPS
Shoulder strap pocket fits energy gels.
M/Large size fits a 3L hydration bladder size
External bladder access
Fits essentials
Cons
Side pockets can't fit 1L nalgene (only fits 24oz and less)
Compression options are limited
Hipbelt is not removable
S/M Size only fits a 2L CamelBak
Feature Summary
Dual zip panel access to the main pocket
Top panel stash pocket
Side stretch-mesh pockets
Bungee cord for locking down wet rain gear
Bike helmet attachment
External hydration pocket (fits 2L for small, 3L for large)
Fit & Comfort
The Osprey Talon series has always fit well, but with the new updated version, holy crap. It fits like trail running pack. The backpanel is soft, breathes well, and the new design cups to your back much better than the previous versions.
Even wearing this on long runs I sometimes forget its even there.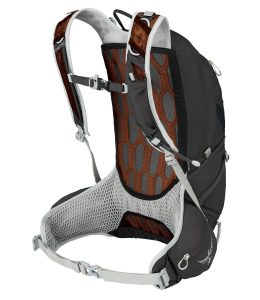 Weight
The weight of such a small pack is often considered not important. For those gram weenies counting every gram it weighs in at 635g for the large size.
For someone that got used to wearing the 250g Montbell Versalite 20, the extra 400 odd grams is noticeable. The point of difference being comfort. The Versalite has no rigidity and feels like you're wearing a plastic shopping bag. The Talon snuggles up to your back and distributes what little weight you have much better.
Capacity & Volume
The Talon 11 claims to hold 11L of gear. Not too far off from reality. Just keep in mind you'll already be out 2-3L if you opt for a separately sold hydration bladder. I should also note while there is strapping outside for "extra gear", the pack doesn't carry well when you're loading on more than you could carry inside it.
To maybe put in a clearer way, don't expect to be able to put a jersey inside, and a rain jacket outside, you're better off with a Talon 22 for this kind of use case. For the Talon 11, the external storage is more just to keep things accessible or separate wet gear from the dry.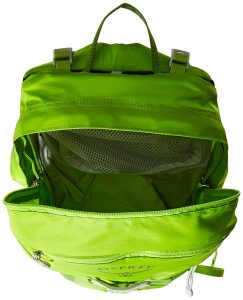 Durability
Osprey Durability.. I don't think I really need to go into this, their lifetime guarantee has you pretty much covered for everything. I will note this backpack will first show signs of wear along the bottom and on the mesh pockets around the hip belt. Sew or patch them early to prevent further fraying.
Osprey Talon 11 vs 22
The Osprey Talon 22 is better suited for longer day hikes where the Talon 11 is better suited for trail runners. Both are great packs and the Talon 22 doesn't seem too large or out of place around town.
Pick according to your needs. If you're a bigger guy like me that primarily walks, go with the 22, if you're smaller, or do a lot of running, or want to use it for commuting go with the 11.
Osprey Talon 11 vs Tempest 9
While the Talon series is designed to be a unisex line. Osprey has decided to release a women's specific version called the Osprey Tempest 9. The Tempest series is has the same features and designs as the Talon series but uses more dialed in measurements for women sizes.
If you have a smaller body size go with the Tempest 9. If you have more volume needs or a larger frame don't be afraid to use the Talon series. (According to my wife, the Talon 11 doesn't seem to fit all that differently than her Tempest – purely a size situation.)
Osprey Talon 11 vs Raven 10
The Osprey Raven 10 is a similar volume backpack from osprey. The Talon line is more of a jack of all trades series where the Raptor 10 is much more suited to cycling. The Talon has the same cycling features like a bike helmet attachment and a hydration sleeve but the raptor has a bit better organization aimed at keeping small cycling kits and pieces separate from the rest of your gear.
The Verdict
The Osprey Talon 11 is perhaps best in its tier. I really can't recommend the Talon series itself enough. Multiple use cases from day hikes and commuting, all the way to cycling.
Durable, long lasting, fits and carries well under all sorts of loads and along with this latest update to the series it will likely take the Exos down a notch for the next couple of years.
Frequently Asked Questions
Can a macbook air fit in the talon 11?
It doesn't have a specific laptop sleeve but my macbook air does fit inside the pack – this is really what makes it such a great commuter backpack.
Does the S/M size pack fit a 3L water reservoir?
​No, only the M/L fits a 3L The S/M size will only comfortably fit a 2L
Specs
Best Use
Hiking
Bag Style
Backpack
Frame Type
Internal Plastic Frame Sheet
Gear Capacity (L)

M/L

11 liters

S/M

9 liters

Gear Capacity (cu. in.)

M/L

671 cubic inches

S/M

549 cubic inches

Weight

M/L

1 lb. 6.4 oz.

S/M

1 lb. 4.6 oz.

Fits Torso

M/L

19 – 23 inches

S/M

16 – 20 inches

Fits Waist/Hips

M/L

28 – 50 inches

S/M

26 – 45 inches

Material(s)
Nylon
Pack Access
Panel
Number of Exterior Pockets
6
Hipbelt
Yes
Hydration Compatible
Yes S/M: 2L, M/L: 3L
Dimensions
19 x 10 x 10 inches
Gender
Unisex