Looking for an ultralight backpacking stove?
Look no more!
Over the last 30 odd years, backpackers have been dialing in their gear lists to go faster, further, and lighter – we're now at an interesting point that you can use pretty much any type of stove and still have an extremely lightweight cook system. It now comes less down to fuel type and weight, instead now being more about your intended use and situational needs.
If you already know what you need, jump straight to the specific list you're interested in using the links below or keep on reading and we'll cover them all in detail.
Best Ultralight Alcohol Stoves
Backpacking Stoves:
Backpacking stoves come in three major forms. Your traditional gas or canister stove, solid fuel stoves – usually referred to by their common brand name esbit stoves, and lastly some of the more – or less – technical stoves, alcohol stoves, or metho stoves – depending on where you live.
Which of those three you pick might be determined by weight but I'd hazard a guess and say there is much more to it than that.
Esbit Stoves,
Being the lightest, esbit stoves are gaining a lot of popularity due to how simple and easy they are to operate. They're cheap, have DIY options, and are ridiculously lightweight. Esbit's only real downside is access to new hexamine fuel tablets at resupply towns during long thru hikes.
There is a common misconception spread and echoed by, people I can only assume haven't tried esbit, that it leaves a sticky residue all over the bottom of your pot. It leaves a slight residue, but it isn't really sticky, and mostly wipes away easily.
I've seen people swear black and blue they couldn't use esbit because of the residue – while they take their cook kit out of a cuben fiber stuff sack and proceed to put their pot in the ashes of the fire…
Alcohol stoves, have been around a long time in the form of home made penny can stoves, cat can stoves have been majorly popularized by Andrew Skurka.
Alcohol stoves have the benefit of readily available fuel at pretty much any resupply town along a thruhike, and for the simple penny can designs you can easily make a new one while you're there.
Traditional Gas Stoves still remain supreme, mostly because you can't sell an empty cat food can to hikers at REI. Aside from my snarky remarks they do have some benefits, on short to long trips their overall system weight is pretty much on par with alcohol stoves – beaten by esbit.
Gas stoves are also the only available option in some high fire risk locations like Australia's national parks where complete fire ban's are in play excluding solid fuel and alcohol stoves – small risk I know, but not everyone knows how to operate invisible flame alcohol stoves properly – p.s. don't try to blow them out – use a snuffer – and no don't ask why I'm saying that..
Best Ultralight Gas Stoves
Gas Canister Stoves are seen as quite traditional stoves these days with two main components – a stove head and a canister containing pressurized liquid gas. While the stove heads themselves don't weigh much the weight of empty canisters you need to haul out can add up on longer hikes.
BRS 3000T Titanium Stove
The BRS 3000T is the lightest gas stove on the market right now at an astonishingly low weight of 25grams. The downsides to this weight is durability of its short pot stand legs. Thre are some reports of failures but I am of the opinion that is due to misuse, ultralight gear needs to be treated with care and the expectation things won't last forever – this isn't your grandfathers stove, nor does it weigh a pound.
If you want to know more you can read my full BRS 3000T review for a more in depth look at this stove.
This stove also happens to be the cheapest option in our line up at sub $20 from most retailers!
Pros
Lightest canister stove available – 25g
Fast and efficient boil times
Folds up rediculously small
Burner output: 2700W
Extremely low price
Cons
Narrow pot stand diameter – best used with tall pots
Really needs a windscreen
Pot stands prone to bending (See below)
Snow Peak LiteMax Stove
The Snow Peak LiteMax Stove is perhaps the most sturdy ultralight backpacking stove there is and will last you multiple thruhikes without issue.
Featuring an impressive range of output this ultralight canister stove can be a gas guzzler if you're not careful. In usual operation this isn't an issue – provided you understand that most stoves shouldn't be run on max as most of the heat escapes up the sides – use a lower burn setting to minimize this loss, it doesn't effect boil times by much.
As with all Snow Peak gear, their quality assurance levels are the best there is, no threading issues, and a high quality titanium alloy that holds up against long and hot boil times.
Pros
Ultralight – 53g
Boils quickly and simmers well
Easy to use with excellent flame control
Reliable & high quality titanium
Good wind resistance
Great canister compatability
Rediculous output if you need it (11,200 BTU)
Very durable
Legs fold away compact
Comparatively quiet
Cons
Can be a gas guzzler if you're not careful
Kovea Supalite Titanium Stove
The Kovea Supalite Stove is a bomb proof gas stove that will last a very long time with some care. There are reports that the pin inside the threading is too short and sometimes won't connect properly to certain brands of gas canisters. Personally I've never had this problem with it and I believe that issue can be resolved by tightening the canister a little bit – though that might also be the root cause!
Pros
Ultralight – 56g
Basic usability
Sturdy and stable pot stands
Flame output is more efficient than both the pocket rocket and BRS
Quick boil times
Folds up super compactly – smaller than the pocket rocket
Cons
Some gas canister compatability issues
Requires delicate handling (fragile gas valve knob)
MSR Pocket Rocket 2
While the old Pocket Rocket was not strictly considered an ultralight stove the new and improved iteration called the "Pocket Rocket 2" is aiming square at the target. While slightly heavier than competitors at 73g, its ubiquitous availability and brain dead operation makes it hard to ignore. And while slightly less compact due to making the pot stand legs non collapsing (it still folds) I feel this only removes points of failure and increases reliability.
Pros
Lightweight
Very easy to use
Sturdy
Low maintenance
Quick boil times
Folds up compactly
Cons
No built-in igniter
Heavier than the other options
Jet Boil MiniMo
Jet Boil is in no way an ultralight option in and of itself, but hear me out. The built in windscreen, added fuel efficiency, ease and speed of boiling water can, for some, make up for it. If your kit is light enough – and you're not looking to break FKT's – don't discount the Jet Boil just on weight – evaluate it as a whole system – it really can hold its own and I won't turn my nose up at you on the trail for using something that works for you.
Pros
More stable than previous jetboils
Much faster boil times than above competition
Much better efficiency than above competition
Handles wind and breezes better
Quieter than other Jetboil stoves
Built-in piezo igniter
Extended simmer control
Cons
Rivets in the handle are exposed and can burn if you're not careful
Lid doesn't pour well
Lid can be difficult to remove
AOTU Ultralight Gas Stove with Piezo Ignition
I can't personally recommend this option, but I do need to give it a mention, the AOTU is another cheap but solid gas stove option with a built in ignition system called a piezo igniter – Piezo's while convenient – add weight, aren't dual purpose like a lighter, and simply add another point of failure to my kit. If none of that bothers you – go ahead, its a great little option!
Why use a Gas stove?
Gas stoves are often the only option available for some people as national parks with high fire risks will often require stoves to have safety features or simply being able to turn them off with a knob. I don't really agree with that but I respect that not everyone can use alcohol or solid fuel (esbit) stoves properly.
Other reasons:
These days they're actually very light
Very fast boil times
Very easy to operate which is sometimes welcome at the end of a long day
Reasons to avoid Gas Stoves
Other than the expense of replacing gas canisters frequently on a long thruhike there aren't a lot of reasons to actively avoid gas canister stoves.
There are some points that certainly make them less desirable and push alternatives higher up in priority (for me.)
Gas stove fuel levels are hard to eyeball
Empty gas canisters are heavy – and you need to carry the empty ones out
Gas canisters don't work well in cold weather or at high altitudes
Best Ultralight Alcohol Stoves
Starlyte Stove by Zelph Stoves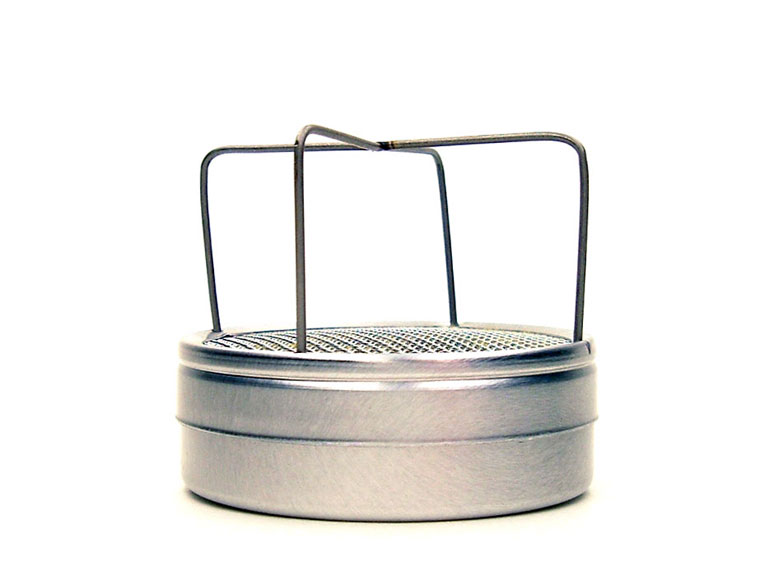 The Starlyte is perhaps one of the most popular alcohol stoves right now, its brain dead design, essentially a small tin filled with carbon felt acting as a large wick covered and held in with a lid and piece of fiberglass mesh.
The Starlyte's design also offers highly safe operation, because its entirely wick, tipping the stove won't unleash a fireball all over the ground in front of your eyes.
While you can use the starlyte on its own the reality is all stoves need some form of windscreen in order to burn efficiently. Personally I recommend using a caldera cone from trail designs but I'm also really enjoying using a simple piece of thick carbon felt – it doesn't heat up and doesn't burn – it also makes for a great pot grabber.
The Starlyte is sometimes available on amazon and usually available on zelph's store directly – but doesn't ship internationally.
Pros
Ultralight
Safe for alcohol beginners
Simple and reliable design
Cons
Requires customization to simmer
Extremely popular so it is sometimes hard to buy
Vargo Alcohol Stove, The Triad, Titanium
The Vargo Triad alcohol stove is a multi-fuel stove with built in and fold away pot stand legs that dual purpose as a spout to poor out any remaining alcohol after use.
The Vargo Triad is compatible with alcohol fuel, or flipped over, can be used with esbit fuel tablets or fuel gel.
Pros
Lightweight
Small and compact system
Ease of use
Durable, reliable and Clever design
Awesome show piece for newbies
No moving parts
Stable pot stands
Fuel efficient and recoverable
Cons
Needs a windscreen
Requires priming
Past production issues
Bad reviews on old models
Can't simmer
Caldera Cone System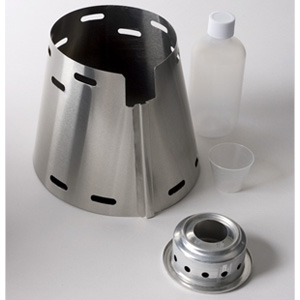 The Trail Designs Caldera Cone System is often referred to as a work horse and rightly so, it cranks out BTU's and keeps the wind at bay.
Pros
Lightweight
Super efficient
Durable with care
Impeccible Wind Resistance
No moving parts
Cons
Requires certain pot size (many options but can't change after the fact)
No flame control, but great if just boiling water
Why use alcohol stoves?
Alcohol stoves usually work end-to-end for ultralight backpackers because of the fuel availability alone, i.e. denatured alcohol. This fuel is affordable and can be found even in the smallest of the towns.
Alcohol stoves are also really handy for basic cooking; for boiling water that goes in for dehydrated freezer bag meals or Mountain house meals. You can also find some like the caldera cone system that allow you to easily simmer food without burning it.
The most popular alcohol stove fuel is denatured alcohol for its combustion properties but you can also use:
pure methanol, or meths (depending where you live), available at any hardware store and most supermarkets
fuel line antifreeze, available at most gas stations
rubbing alcohol, available at drug stores
pure ethanol
Alcohol stoves are often much lighter than canister stoves although that is starting to change with the BRS-3000T. The fuel weight per water boiled roughly compares similar to gas canister stoves and is rarely used to determine which you will pick – the bigger benefit is being able to select exactly how much fuel you will need to take on your trip and not needing to carry the empty canisters out.
Best Ultralight Esbit Stove
Esbit Folding Stove, Titanium
The Esbit folding stove folds up kind of awkward, but its small enough to manage – I store mine inside my 550ml pot along with fuel, half a chux, and a lighter.
This particular model will hold any pot size but does a particularly great job with the 550ml titanium pots which slot into the inner legs neatly.
This esbit pot stand pan isn't quite as good as the gram cracker mentioned up next but I don't need a separate pot stand and am free to use my carbon felt windscreen instead of the caldera cone.
Pros
No messy or heavy fuels.
Costs less than $15
Titanium, small, ultralight
Robust, compact, and simple design
Light it and forget
Works with a variety of pots
Easy to use
Works with any windscreen system
Cons
Doesn't fold flat, but small enough to fit in your pot.
Leaves a little bit of a black soot on the pot, but no real issue
Fuel can be hard to get in some places
Needs a windscreen for efficient burn
Trail Designs Gram Cracker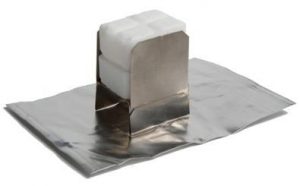 The Gram Cracker is a tiny piece of titanium sheet metal cut and folded into the strange shape pictured above. This particular design forms a little pan to hold the esbit tablets, this pan has high sides that force the burn to be slower and more efficient. The pan also collects any melted fuel before it has a chance to burn off at an increased speed or splatter out onto the surrounding ground.
The gram cracker weighs almost nothing at only 3 grams but does require a separate pot stand like the caldera cone also from trail designs.
Pros
Increases Esbit burn time and efficiency
Lightest esbit burner (camp stove ever?)
Disassembles for packing flat
Inexpensive
Cons
Delicate and small pieces, take care
No pot stands so really only works with the caldera cone system
If you're seriously considering the gram cracker and are a bit more DIY-able, I hightly suggest checking out the Brian Green Esbit design (BGET), its a great read either way.
Why use an esbit stove?
Solid fuel stoves are, in case you didn't figure it out, my personal pick when it comes to boiling water in the mountains.
In my mind, the benefits outweigh the negatives and my trips don't require resupplies in the middle of nowhere.
Hexamine solid fuel tablets are pack stable.
Don't weigh much
Far easier to measure than alcohol or half empty gas canisters
The negatives are limited to an odd burning smell and some residue on your pot – not a real issue, and far reduced if you stick to esbit brand name tablets as they leave much less residue than the cheaper versions like coleman's which tends to splatter liquidated fuel a bit as it burns.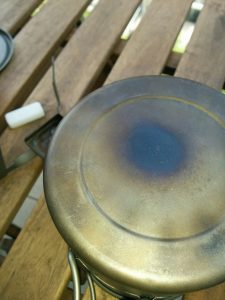 Stoveless
Going stoveless, while out of scope for this post is worth a mention. These days a lot of resupply points can and do leave you with little to actually cook – not a lot of mountain house meals at a gas station. With proper planning and drop off points this can be worked around but many people are forgoing the issue all together.
Opting to live off prepackaged snacks, bars, and even fast food hikers are ditching the stove and fuel weight, replacing it with a peanut butter jar full of cold soaked oats.
I don't think I'd survive without a hot cup of coffee in the A.M, and my esbit setup weighs about as much as a peanut butter jar so this really isn't an option for me – but that doesn't mean I haven't given it some real consideration.. I do like my cold overnight oats.
The Verdict
As you now know, my personal choice for a stove system is the esbit folding stove paired with a 550ml titanium pot and a carbon felt wind screen. This is my choice after years of cycling through the above options and what I choose may not be the best choice for you – Not everyone cares about shaving off every single gram, and I really don't blame them.
Please, before you purchase any of the above, make sure you know how to operate them safely, and are allowed to do so legally in your area.
Oh, and if you like, love, or even hate this guide I'd love to hear why in the comments below!